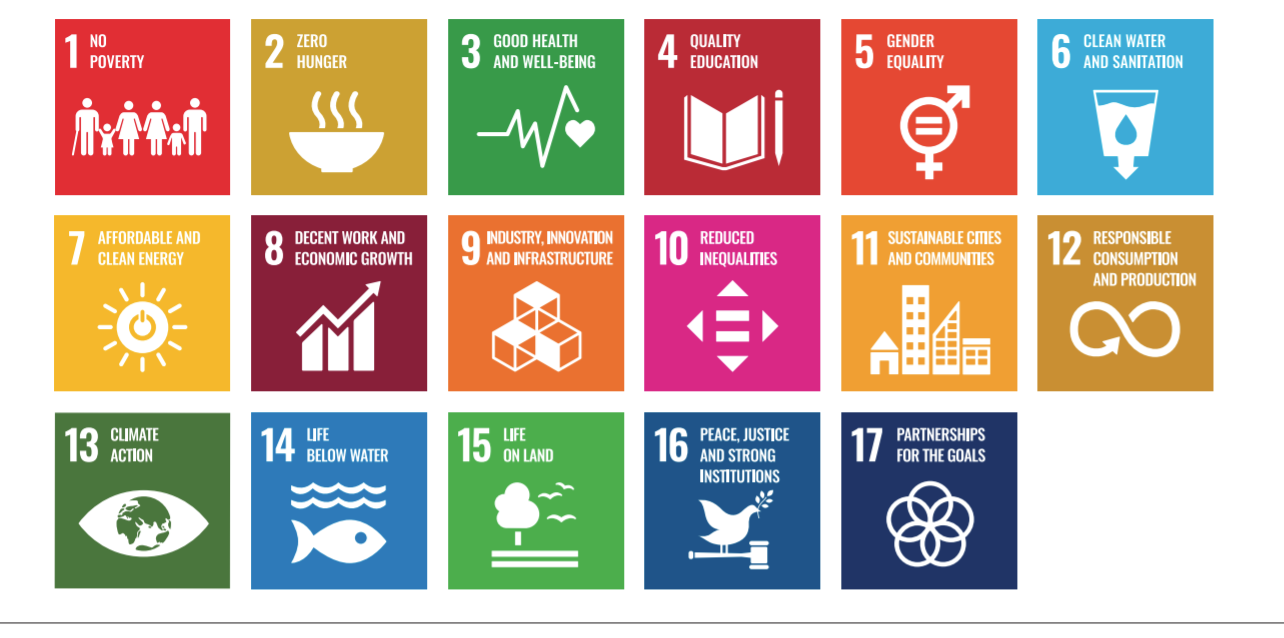 The 2030 Agenda for Sustainable Development, adopted by all United Nations Member States in 2015, provides a shared blueprint for peace and prosperity for people and the planet, now and into the future. At its heart are the 17 Sustainable Development Goals (SDGs), which are an urgent call for action by all countries - developed and developing - in a global partnership.
They recognize that ending poverty and other deprivations must go hand-in-hand with strategies that improve health and education, reduce inequality, and spur economic growth – all while tackling climate change and working to preserve our oceans and forests.
The SDGs build on decades of work by countries and the UN.
The Agenda 2030 is a plan of action for people, planet and prosperity. It looks to strengthen universal peace in larger freedom. The aim is to eradicate poverty in all its forms and dimensions, including extreme poverty, is the greatest global challenge and an indispensable requirement for sustainable development.
The goal is to free the human race from the tyranny of poverty and want and to heal and secure our planet.
The 17 Sustainable Development Goals (SDGs) and 169 targets demonstrate the scale and ambition of this new universal Agenda.

MAIN TOPICS
People
End poverty and hunger, in all their forms and dimensions, and ensure that all human beings can fulfil their potential in dignity and equality and in a healthy environment.
Planet
Protect the planet from degradation, including through sustainable consumption and production, sustainably managing its natural resources and taking urgent action on climate change, so that it can support the needs of the present and future generations.
Prosperity
Ensure that all human beings can enjoy prosperous and fulfilling lives and that economic, social and technological progress occurs in harmony with nature.
Peace
Foster peaceful, just and inclusive societies which are free from fear and violence. There can be no sustainable development without peace and no peace without sustainable development.
Partnership
Mobilize the means required to implement this Agenda through a revitalised Global Partnership for Sustainable Development, based on a spirit of strengthened global solidarity, focussed in particular on the needs of the poorest and most vulnerable and with the participation of all countries, all stakeholders and all people.
What do the 17 Sustainable Development Goals state?
Goal 1. NO POVERTY
End poverty in all its forms everywhere.Economic growth must be inclusive to provide sustainable jobs and promote equality
Goal 2. ZERO HUNGER
The food and agriculture sector offers key solutions for development, and is central for hunger and poverty eradication.
Goal 3. GOOD HEALTH AND WELL BEING
Ensuring healthy lives and promoting the well-being for all at all ages is essential to sustainable development.
 Goal 4. QUALITY EDUCATION
Obtaining a quality education is the foundation to improving people's lives and sustainable development.
Goal 5. GENDER EQUALITY
Gender equality is not only a fundamental human right, but a necessary foundation for a
peaceful, prosperous and sustainable world that promotes equal opportunities.
Goal 6 CLEAN WATER AND SANITATION
Clean, accessible water for all is an essential part of the world we want to live in.
Goal 7. AFFORDABLE AND CLEAN ENERGY
Energy is central to nearly every major challenge and opportunity.
Goal 8. DECENT WORK AND ECONOMIC GROWTH
Sustainable economic growth will require societies to create the conditions that allow
people to have  quality jobs.
Goal 9.INDUSTRY, INNOVATION AND INFRASTRUCTURE
Investments in infrastructure are crucial to achieving sustainable development.
Goal 10. REDUCE INEQUALTIES
To reduce inequalities, policies should be universal in principle, paying attention
to the needs of disadvantaged and marginalized populations.
Goal 11.SUSTAINABLE CITIES AND COMMUNITIES
There needs to be a future in which cities provide opportunities for all, with
access to basic services, energy, housing, transportation and more.
Goal 12.RESPONSIBLE PRODUCTION AND CONSUMPTION
Responsible Production and Consumption
Goal 13.CLIMATE ACTION
Climate change is a global challenge that affects everyone, everywhere.
Goal 14. LIFE BELOW WATER
Careful management of this essential global resource is a key feature of a sustainable future.
Goal 15. LIFE ON LAND
Sustainably manage forests, combat desertification, halt and reverse land degradation, halt biodiversity loss
Goal 16. PEACE JUSTICE AND STRONG INSTITUTIONS
Access to justice for all, and building effective, accountable institutions at all levels.
Goal 17. PARTNERSHIP FOR THE GOALS
Revitalize the global partnership for sustainable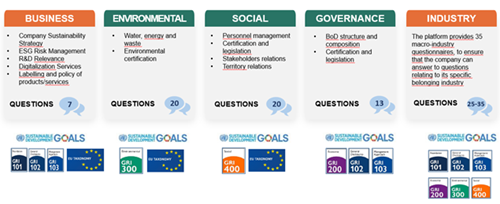 WHAT'S SYNESGY's INVOLVEMENT WITH SDGIs?
Based on those topics and prescriptions, regarding its methodology and framework, Synsegy provides an assessment through a questionnaire that is splitted in 5 macro- areas and where two of them are related with the business and industry aspects, while then we find the 3 pillars about esg
It relies on SDG, GRI and others country specific regulations and with localized solutions on the specific market… It is important to underline, in fact, that local normative and framework are taken into account, in the questionnaire, as for example the EU Taxonomy in Europe or other localized regulations as in other countries, as for example the German regulation about supply chain.

In the business section are required information about ESG's strategies of the company (if there are) and another important section is about the ESG risk management of the company.

In the 3rd pillar, information about the Environmental section are required:

- Information about energy consumption, water and waste management of the companies
- Other information about the method to value environmental performances and relative kpi
- Certifications

In the pillar about Social, some example of issues that are investigated in the questionnaire, are:
- Personnel management
- Certification and legislation
- Stakeholders relations
- Territory relations

In the section dedicated to the last pillar of the Governance, are required and analysed information about: the structure of the board and its balance,
the relationship with stakeholder and the avoiding or reducing of negative events or legal conflicts.
Also in this section are required certifications eventually obtained by the company and the compliance with legislations.

About the Industry: When the company register on the platform, to complete the questionnaire, the company has to declare the sector who belongs to, so now in Synesgy we are able to cover with 35 macro-industry sectors in the main productive industry fields, to make sure the company coul provide specific ESG information according to the type of activity.

They are also aligned with the benchmark of the sector.